Facebook has made several changes to its privacy settings to make it easier to limit what you share to certain groups, bringing it more in line with privacy-focused Google+. In a Facebook blog post, the company outlines how you can use slightly modified features to limit who can see various parts of your profile and wall posts, and even put permanent limits on who can tag you in photo. The changes are slowly rolling out to Facebook users "in the coming days."
Facebook was once known for its extensive privacy controls compared to MySpace, but over the years, the company's reputation in this area has declined thanks to an increased focus on pushing users to connect to more people and share. more information. Most of Facebook's granular controls remain deep within the bowels of its privacy settings, however, where most curious users have managed to discover them.
Facebook is clearly aware of this problem. "The main change is moving most of your controls from the settings page to be inline, alongside the posts, photos and tags they influence," Facebook VP of Marketing Chris Cox wrote in a blog post Tuesday. "Your profile should and feel at home on the web – you shouldn't feel like something is showing up there that you don't want, and you shouldn't have to wonder who saw what."
So what in some changes? For one, you can easily be more specific next to every element of a profile (your favorite music or your favorite books, for example) whether you want it to be public, limited to friends, or personalized. Facebook will also make it very easy to set the same limits when making a wall post. Previously, users had to click on the not-so-easy gray lock icon to see their sharing options, but now the company is putting this up front with a big blue button — a more visual look at the post can at the end If you want.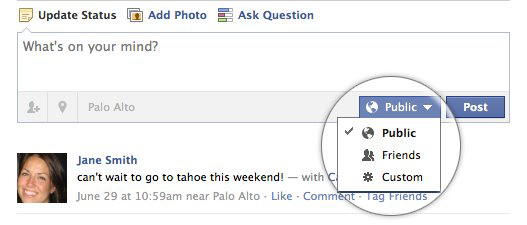 Facebook has borrowed another thing from the Google+ playbook by moving the "View Profile As" feature to a more obvious place. (Again, this feature was already on Facebook, but the number of people who know about it can be counted on one hand.) It is now at the top of your profile on the right side so you can always see what you are up to. the page looks like dear old mom or dad. And-all the ice Zuckerberg-Facebook finally add the ability to edit your posts once they go live. Now, if you make a typo or share too many details, you don't need to delete the entire post to make it right. This is such a simple and obvious feature that it's almost surprising that it's not already part of Facebook, even though Twitter still doesn't have a way to edit posts once they go live. (Google+ already has this feature.)
The most interesting new features, however, came as part of Facebook's overhaul to the photo tagging section. "When asked, people have different ideas of what removing a tag actually does, and different motivations for wanting to remove them," Cox wrote. As a result, Facebook makes it possible for users to not only remove a tag on a photo, but ask the user in question to remove it through the Facebook interface, or even block the user directly from the tagging area. . Or, if you don't necessarily want to become that person but you do want to approve all your tags or signs before they appear on your wall, you can do that too. Mom's always posting embarrassing baby pics to her profile with her name on them? Tell Facebook to ask you to approve all your tags before they go up.
There are also many ways in which the sharing options of Google+ are more powerful than those of Facebook – for example, Facebook lists (which are similar to Google+ Circles) are still not very easily accessible, and the company even explains when show Groups of lists are pushed to the background. That may change, though, as Cox's blog post specifically states that the sharing drop-down menu on Facebook will include any friend lists you create. For us, it's clear that Facebook is reacting to the choices Google+ has made when it comes to sharing information.
But even if Facebook is only reacting and not innovating itself, the result will be positive—Facebook users have been in desperate need of more transparent privacy controls, and now they are really starting to get them. It is not enough to offer controls buried within the labyrinth known as "systems"; The controls need to be upfront and easy to use in order for the masses to pick up on them. This is hopefully a start for Facebook.